here she is boys..
hoping for 500whp
Block:
-H23a Pauter Rods
-CP Pistons .40 Over 9:1
-ARP Rod Bolts
-ARP Headbolts
-ACL Rod bearings
-micropolised Crank
-Blue Printed and Balanced
Head:
-Crower full valvetrain
-Stock OEM honda valves
-DELTA Regrinds 262/272
-Onsoku SAER style cam gears
-Honda OEM timing belt/balancer belt
Fuel Management/MISC
-Crome Pro/p06
-FIC 650cc
-FPR
-MSD 6AL
-MSD Blaster Coil
-Aeromotive A1000(not here yet)
-Oil Catch Can
-EG Mishimoto Rad with Slim Fan
-Greddy Turbo Timer
Turbo Setup
holset (you kow which lol)
38mm CDM special WG
3" Vband downpipe (being made soon)
EBC X 2 (1 = CDM WG 1=Vane internal gate)
-SRT4 BIG FMIC 3.5" core size
-Greddy Type S bov
Mission:
-F22a trans
-ACT 4 puck Sprung clutch/Pressure plate
-Fidanza 8lb wheel
-Stock axles for now.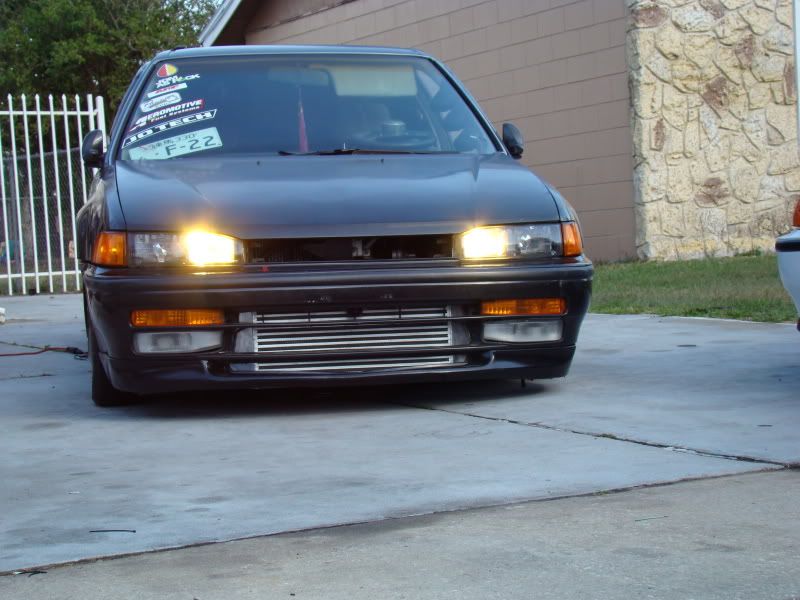 downpipe being made tomorrow..
wastegate dump is already made... just need to cut a hole in the lip (it will be exiting out the drivers side thru the lip)
ignore the tack weld from the turbine to the cast manifold.. we got tired of holding that heavy son of a bitch.
the cast manifold will eventually be replaced once its all running.. it will be swapped out for an aftermarket unit.. more flowing obviously.. but first i want to make some supports for the turbo.. to aid in not cracking the shotty aftermarket pieces.. unless i get my hands on a DC sports top piece or something..
enjoy guys.. should have an update in a few weeks..
P.S the pics of it running were when it had the DSM Manifold and evo3 16g with 20g wheel
20psi was fun.. but obviously we want more..